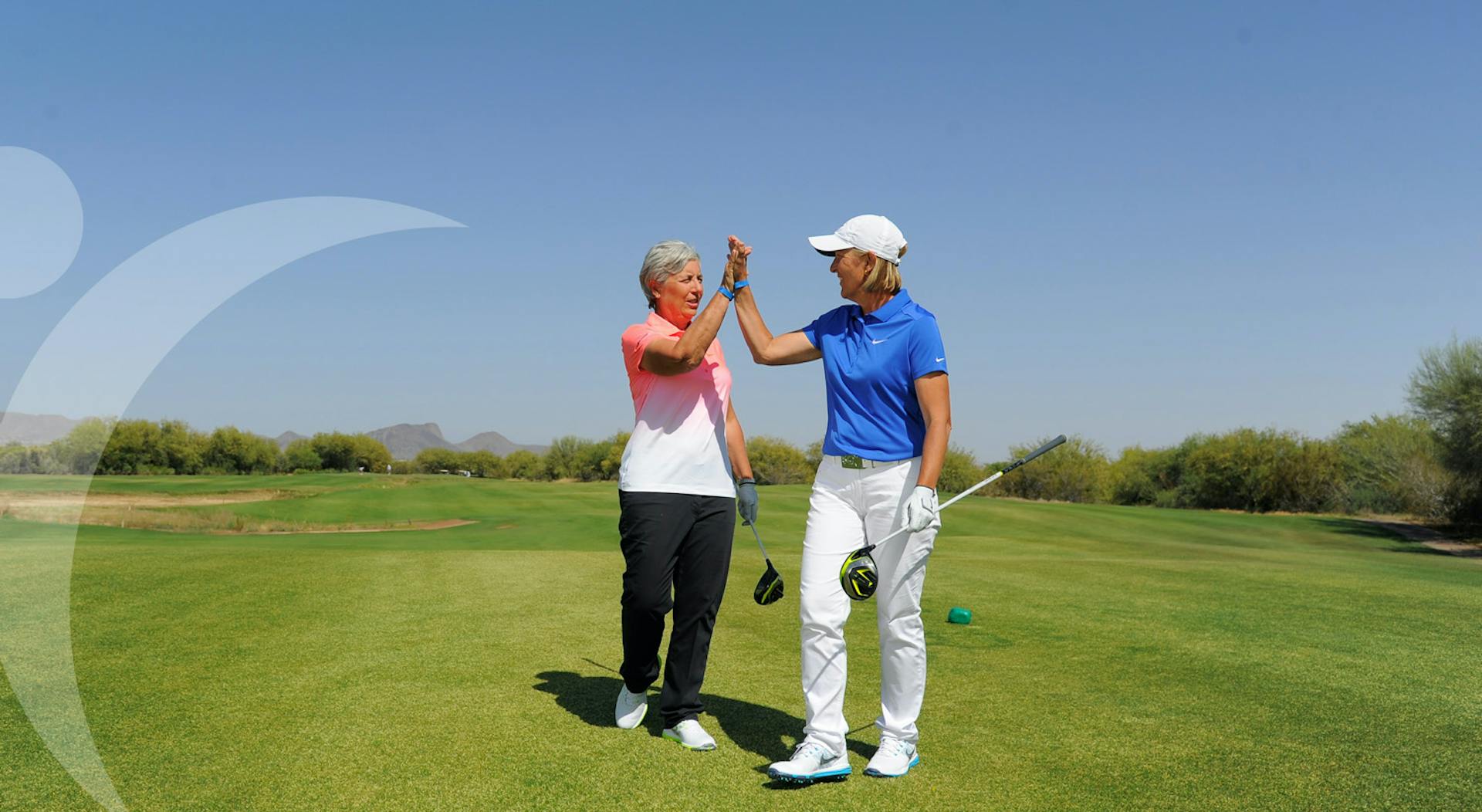 VISION54 Golf Coaching at Talking Stick

At VISION54 we have one main intention – to support golfers to play better ON the course and ENJOY the game more.
Talking Stick Golf Club is the home base for the world-renowned VISION54 Golf Coaching program co-founded and performed by coaches Lynn Marriott and Pia Nilsson. VISION54 is much more than swing coaching. At VISION54 you learn the skills you need to PLAY better ON the golf course. Isn't that what all golfers want? Practice sessions incorporate the latest research on practice and transferring the skills to the golf course. VISION54 targets the whole person, not just the technical aspect of the game.
We look at the reality of golf and what elements influence your performance. The elements are physical, technical, mental, emotional, social and spirit of the game. To make this come alive we created the 8 Essential Play Skills golfers need to complement their technique – Play Box, Decision & Commitment, Balance, Tempo, Tension Awareness, Emotional Resilience, Memory Storage, and Managing Self-Talk.
We believe that you have a unique strategy for playing great golf and we want you to take great care in discovering what works best for you, MY54. By doing this, you will gain clarity about your unique strategy for playing great golf, and therefore will achieve it more often.
Additional information on VISION54 can be found on their website, or see below for their program menu.

Training options at Talking Stick Golf Club
3Day – Human Skills: Comprehensive program diving into the skills that complement your technique
Program Fee: $3500
2Day – Human Skills: On Course, 36 holes on course training and coaching
Program Fee: $2000
Training Days – On going curriculum / you determine length & frequency of your stay - supervised training and 9 holes of on course coaching each day
Program Fee: Amateurs $600 / Juniors and Competitive: $500
54Play – On Course Coaching – 9 holes on course training
Adults $200 / Juniors $150
Golf Training – 1.5 hour range session
Adults $125 / Juniors $100
Private Training - inquire about our private training sessions for individuals and groups